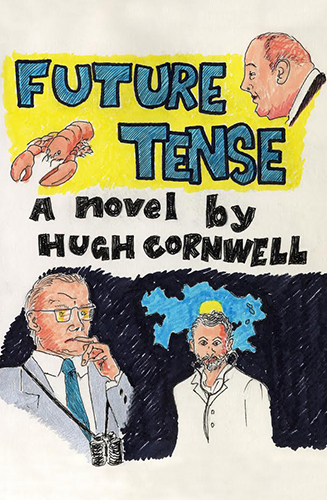 By Hugh Cornwell
Published 8 October 2020
A crime novel of near-future dystopia.
An old-school noir crime novel set in a futuristic world of sentient robots, self-driving cars and drugs to die for. It is a future that is recognizable from our present and not too far away.
Amidst pollution, apocalyptic climatic disasters and draconian new laws, the government has decided to get tough on obesity by taxing the overweight.
When a mild-mannered young doctor in Miami does a small favour for his new, and very overweight, client, he suddenly finds himself the preferred doctor of the members of an organised crime syndicate. Slowly he becomes entangled in a web of tax crime, drug manufacture and murder that he cannot escape.
But when his crimes are discovered by a law enforcement robot who longs to be human he finds an opportunity to get out. Or will the past inevitably catch up with him?
"An entertaining read with an intelligent and well-researched outlook on where our society is headed – from technology to food and health care"
---
---
---
Reviews
Best remembered as the lead singer and guitarist of punk band The Stranglers, Hugh Cornwell is also a successful writer having written about his time spent in prison for drug offences, a guide of the entire Stranglers catalogue, an auto-biography and is also the author of 2 previous novels. Here he returns to print after an absence of a few years with what is described as "a crime novel of near-future dystopia."
I have to say that this is not the style of novel that I would usually choose to read. Listed under the categories of crime and thriller (with which I am comfortable with), and sci-fi and fantasy (which I am very much not), I considered knowing who the author is and being a fan of his music, I would give it a try. As it is, I was pleasantly surprised and very pleased that I did.
The plot revolves around the Government who has decided to fight against obesity by hiking a tax on anyone who is overweight. Meanwhile a doctor in Florida helps out an overweight client and suddenly finds he has become the chosen medic of an organised crime syndicate. But as he becomes more embroiled in fraud, drug offences and even murder; his crimes are discovered by a robot and he sees an opportunity to get away – or does he?
When I initially read the book synopsis I thought to myself, am I actually going to understand any of this? My reading habits are pretty staid at the best of times and I generally stick to what I consider the tried and trusted or with what I am pretty sure I will enjoy. In effect, is it really worth my while taking the time to read and will this go flying over my head in a puff of smoke? The answer in the first instance is yes and in the second, a resounding no, and I have to say I very much enjoyed the read which I found quite thought provoking and even somewhat amusing at times.
Rating: 5 out of 5 stars
---
What a weird, wild and whacky ride this was! My expectations were quite a bit different than reality as this was categorized as Mystery/Thriller so I was quite surprised with the story. This type of book wouldn't typically appeal to me but I read it and it took me off guard with a jolt! I haven't read anything quite like this before so describing it is quite difficult. The story is dystopian, told from very different…and interesting… perspectives. An obesity tax has been introduced and one of the main characters, a general doctor, discovers a completely different world which envelops him, a crime-ridden world which he becomes part of. The book goes on to describe the multitudinous activities he and other characters encounter and initiate, one thing after the other after the other!
As mentioned, this was a complete surprise in two ways; firstly, I wouldn't consider this a Mystery/Thriller and secondly, the twisty dystopian story was gripping. I'm still not a fan of dystopia but that's my taste, not the fault of the book. The writing style was easy and engaging yet most of the characters were easy to despise. I definitely did not love the story itself (not exactly touchy feely though emotive in other ways) but was mesmerized nonetheless.
Be warned there is adult language.
Future Tense is right!
Brenda Carleton
Rating: 4 out of 5 stars
---
The main reason I wanted to read this is because I'm a fan of Hugh Cornwell's music. Cornwell was a member of British band, The Stranglers. Not quite punk, not quite pop – just damn fine music. Normally, I don't read these kind of books, but I was intrigued. I'm not a big mystery/thriller reader but I am glad I gave this a chance.
The novel takes place some time in the future. The government is charging a tax on fat people in hopes of getting overweight people into shape. A doctor in Miami helps one of his patients dodge the tax and soon he is the doctor for a close knit group of hit men, drug dealers and money launderers. In exchange for sizable cash payments, Dr. Rattigan turns in fraudulent reports for his patients. The deeper the doctor gets, the richer he becomes. Before he can take the money and run, he is discovered by a robot who is will let him go but for a high price.
There's drugs! Murder! Deception! Intrigue! I was surprised that I enjoyed this book as much as I did. The story moved at a good pace and I couldn't wait to find out what would happen next. While reading, I kept thinking "How did Cornwell come up with this stuff?"
Elisa Leon
Rating: 4 out of 5 stars
---
Hugh Cornwell probably best known to many people as the former singer and guitarist in The Stranglers writes novels?
This was my first thought upon seeing this book. Second thought was I wonder if its any good.
You should not need to wonder, its actually very good.
Set on a future which seems perfectly plausible the book is character driven and does not rely too heavily on the time in which it is set.
We have a main protagonist and the first part of the book is devoted to him and the people who come into his life. The second part of the book is a retelling of part of the first but from the point of view of another of these characters and finally we have our concluding section where it all comes together.
I thoroughly enjoyed this and would have no hesitation in reading anything further which Mr Cornwell may write.
Iain Kyle
Rating: 4 out of 5 stars
---
Future Tense is an unusual crime novel set in the near future. It's a time when cancer has been cured, people own driverless cars, there are law enforcement robots and the US government is monitoring everyone's weight and taxing obesity. Rattigan, a young doctor in Miami unintentionally gets involved with the members of a crime syndicate. When a law enforcement robot who wants to experience being human discovers his crimes his life starts to get complicated.
I thought that the novel was very well plotted, building to a dramatic finale and found Hugh's vision of the future fascinating. I read the book in just a couple of days and thoroughly enjoyed it.
Rick Forncett
Rating: 5 out of 5 stars
---
This was an interesting read, the characters were great and I really enjoyed the plot. I look forward to more from the author in the future as this was an enjoyable read.
Kay McLeer
Rating: 4 out of 5 stars